145th Combat Aviation Battalion
(Vietnam) Association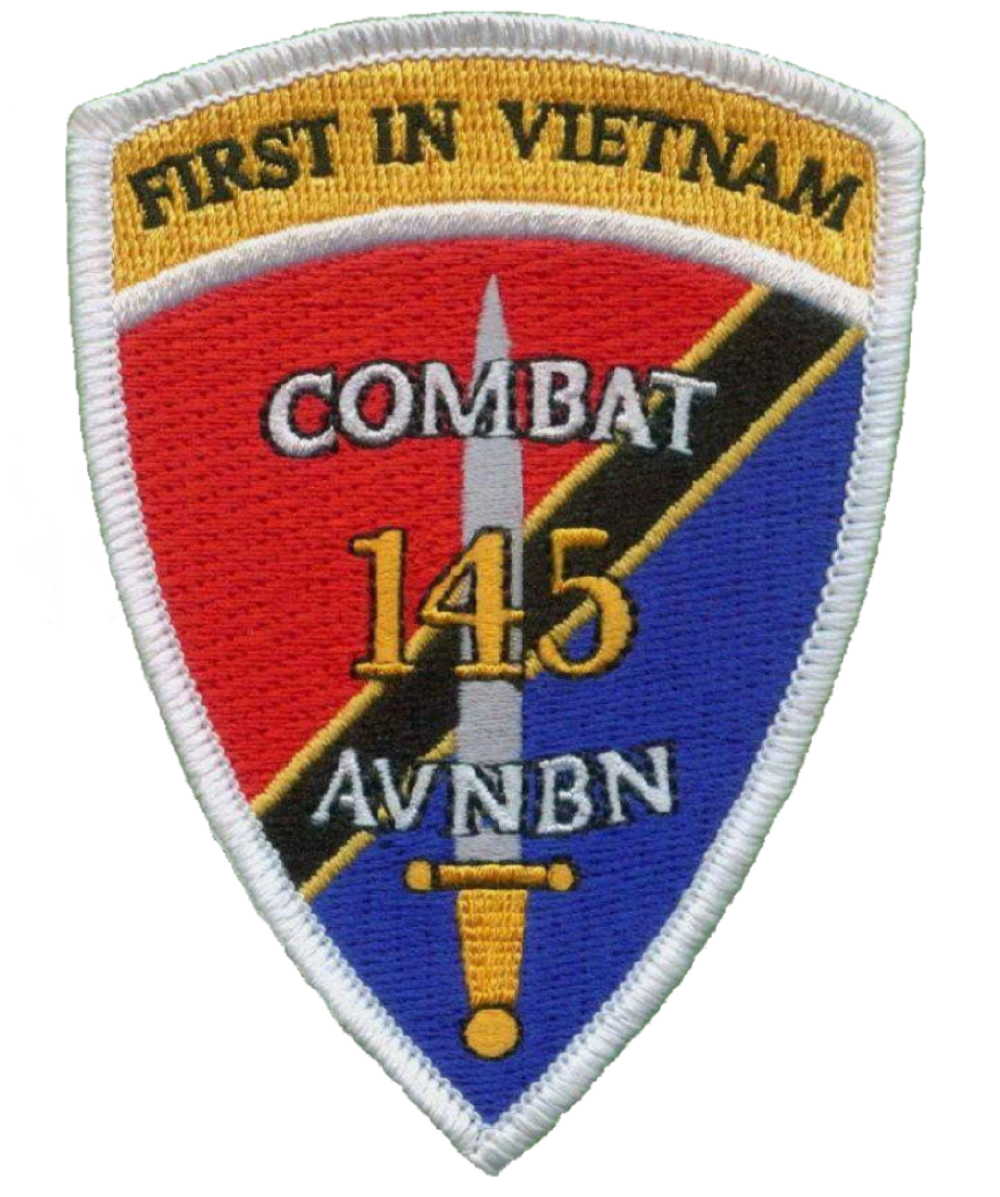 "Old Warriors"
Welcome to the 145th Combat Aviation Battalion Web page.
Sign Guestbook View
UPDATED 8 January 2015 , Reunion info,
Next Reunion is scheduled for June 4-7 , 2015, Ft Rucker, AL. Click on REUNION for the latest details.



Please take a moment and read this complete page.

I like for everyone associated with our organization to sign our guestbook, but lately some of the scum of the earth have been trying to use our guestbook to sell drugs and things. To solve this problem when you sign the Guest Book it will ask you to enter ABCDE and to enter a code. The code only shows up if you have cookies enabled. And your entry doesn't show up right away. I have to approve each of the entries before they appear. If your one of us I'll approve. Thank you, please read on.


Just to make sure that everyone can get to all the links on this page I'm going to put a copy of all the links on this page right here in this paragraph.

MISSION, UNITS, CIVIC ACTIONS, TRADITIONS, HISTORY REPORTS, MEMORIAL, REUNION, IMAGES, LINKS to other website,
and the newest link T-SHIRTS AND FUND RAISERS ITEMS.
Please read on and send me your information.

Please view this information at your leisure, and sign the guest book, especially if you were a 145th Combat Aviation Battalion member. If you were assigned to the 145th CAB units, and haven't made contact with our Association as of yet, please do so by contacting , the association president. Come to our reunions, reconnect with old friends and make new ones.

Hi, I'm Jim Bodkin, National Director/Coordinator, for the 145th Combat Aviation Battalion (Vietnam) Association, 497 County Road 104, Brundidge, AL 36010 home phone 334-735-2051 or cell phone 850-624-0264.

I need a mailing address (snail mail) for you so I can send you a newsletter. Could you send it with your full name, street address, city, state, zip+4, phone number, unit served, dates served yrs-months, and rank classification – OF, WO, EM. Thank you.

Here is a little info on our organization. We have over 4,000 current address, many from you former unit.

The 145th Combat Aviation Battalion (VIETNAM) Association is a Fraternal Veterans Organization filed under IRS Code section 501(c)19. We are established for the purpose of holding reunion, writing unit and battalion history, and to re-establish the camaraderie of the Battalion, units and detachment associated with the 145th CAB, (45th Trans Bn in the early days). We are trying to locate everyone who served with the 145th Combat Aviation Battalion and the 45 Transportation Battalion in Vietnam, the units listed below:
Aviation Companies

HHC, 1st, 18th, 25th, 68th, 71st, 73rd, 74th, 114th, 117th, 118th, 119th, 120th, 121st, 135th, 147th, 184th, 190th, UTT-68th-197th-334th, 213th, 242nd, 335th, CoA/82nd, CoA/501st, 57th Med Det

Transportation Companies

8th, 33rd, 57th, 81st, 93rd, 339th

And all Detachments of these units.

Many of these units served with the 145th Battalion for just a short time in Vietnam. To truly re-establish the camaraderie of the units we welcome, and hope for, everyone assigned to these units to join with us. To us a unit is a unit no matter what other Battalion it may have been assigned to before or after serving with the 145th.


After I send you a sample newsletter you may wish to join our Association for just $15 a year or $200 life membership. Regardless, please send me an e-mail so I can send you a newsletter and also have you on file so your friends can contact you. Jim Bodkin email to:
jbodkin145@aol.com

And I want to thank Brian Wizard for hosting of Association Web page for the first couple of years. Brian uses his web page to sell his stories, video, music and more regarding his combat experience, plus a report on his return to Vietnam in 1999. Some items are for free and other for sale to support his web site. http://www.brianwizard.com